Home » Archive by Tags
Articles tagged with: Alyssa Arcè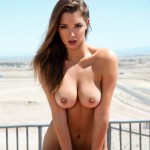 Playboy delights us with some more of this months Playmate, Alyssa Arcè with the last part of her Playmate photo-shoot plus a new exclusive video. Enjoy watching this extremely arousing video featuring the hottest babe in Playboy this month displaying her unmatched beauty in slow motion on the couch, looking amazingly sexy in a white babydoll with no bra underneath. In the new pictures view some more of the best natural breasts from Playboy this year in my opinion, with Alyssa shooting in luxurious cars and at a railing showing the world the beauty of her perfect body wearing different outfits.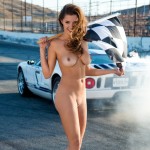 Get ready to start your engines when Playboy's stunning Playmate of the Month, Alyssa Arcè swings the flag all naked in the middle of the road…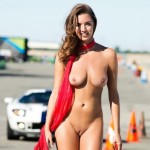 Ready, get set… START YOUR ENGINES! What the hell am I talking about? I'm talking about the new Playmate for July, Alyssa Arcè in a new incredible behind the scenes footage at the dragstrip. The sexy golden brunette all nude and amazingly hot at the dragstrip having fun with all the luxurious cars. She's a gift of nature with that gorgeous pretty face and those spectacular voluptuous breasts. Are they real? YES they're all natural and perfect! We're looking forward into seeing more of this stunning babe in the weeks to come.